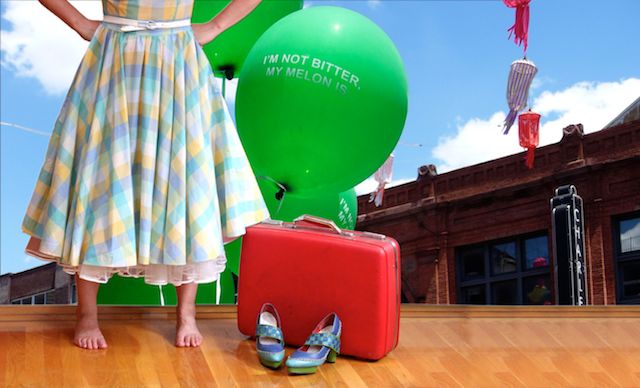 A
ndi Sutton is an artist whose practice explores the ways that performance art methodology can create new models for community development and social engagement.  Working in a solo and collective context, her projects incorporate food, agriculture, television and street intervention, video, performance, and installation. Her works have been shown internationally at the Los Angeles County Museum of Art (LACMA) (Los Angeles, CA, USA), The Western Front, (Vancouver, BC, Canada), the Yerba Buena Center for the Arts (San Francisco, CA, USA), the Yogyajarta New Media Art Laboratory (Yogyajarta, Indonesia), the SMART Museum (Chicago, IL, USA), Universidad Nacional (Bogota, Colombia), the Anthology Film Archives (New York), the Frederick R. Weisman Art Museum  (Minneapolis, MN, USA), among others.
An avid collaborator, she is a member of   The National Bitter Melon Council (www.bittermelon.org) which uses the form of a vegetable promotion board to create public projects that use the flavor and emotion of bitterness – and Bitter Melon – to spark dialogue about difference, foreignness, and community, and explore the boundaries between art and life.  Combining performance art and community development practice, the Bitter Melon focused events of the NBMC creates projects that propose alternative models for community and coming together and spark dialogue about bitterness, foreignness, and flavor.
She is also a member of the collective Plotform (Jane Marsching + Andi Sutton) whose projects activate human engagement with Boston's local ecologies. Plotform is currently engaged with their multi-year project Marsh Radio Island.  Sutton also co-produced the public art and dialogue event series Platform2 a performance happening and discussion series that promotes discourse about art and social engagement.  Among Andi's art and community building work has also included a curatorial practice. From 2004 – 2006 she co-developed and co-curated the Berwick Research Institute's Public Art Incubator Program, an artist-run residency program for artists working in the public sphere.
Sutton has received grants from the Massachusetts Institute of Technology Council for the Arts and the LEF Foundation and is the winner of the MFA Traveling Scholars Award (2010) and, along with The National Bitter Melon Council, the Artadia Art Award (2007). She graduated in 2003 from a combined degree program between Tufts University and the School of the Museum of Fine Arts Boston with a BA in Women's Studies and a BFA in interdisciplinary studies, focusing  on performance art, video, and installation. She is also communications and program manager for the Abdul Latif Jameel World Water and Food Security Lab (J-WAFS) at the Massachusetts Institute of Technology, is a passionate cook and gardener, and can't help but incorporate each, metaphorically and literally, into her work.