Boston Coastline: Future Past was a "walking data visualization," performed in Boston in June 2015, in which 40 participants walked parts of this virtual coastline as a way to understand — with their bodies — the future and past of a city that is changing at scales that are difficult to see and comprehend. Along the way, walkers wore messages that they composed about their hopes, fears and grief for the future, and used them to stencil temporary graffiti messages on the paths of the Boston Common.
The map of the Boston coastline from 1788 is uncannily similar the map predicted for 2100 based on rising seas due to climate change.  The wall-mounted print compares the two.  Approximately 23% was soaked in the waters of the Boston Harbor, the same percentage of land that is predicted to be underwater in 2100.
This walk was produced collaboratively with the artist Catherine D'Ignazio in conjunction with the Decordova Museum's Walking Sculpture exhibition, and featured several guest speakers–performance artists, scientific experts and policy makers who represent the future and the past. The stencils that people wore during the walk and used in the project are part of  my ongoing project "Composing the Future: Extinction/Loss".
Boston Coastline Future Past from Engagement Lab on Vimeo.
Speakers
Eric Gordon, Emerson College, Director of the Engagement Lab
Brian Swett, Former Boston Chief of Energy, Environment, and Open Space
Andi Sutton, Artist
Vivien Li, President, The Boston Harbor Association
Exhibitions
Documentation of this project, in addition to a limited edition print and wall installation, ws included in the MIT Museum exhibition Big Bang Data which explores the intersections of culture, technology, and society in the digital age.  Big Bang Data was conceived by the Centre de Cultura Contemporania de Barcelona and has traveled globally including to London, Mexico City, Prague, and Singapore.  Boston Coastlines: Future Past was included in the final site of the exhibition in Cambridge, Massachusetts.
Reviews
A review of the piece was included in the quarterly journal Public Art Review in Issue 54 (Spring/Summer 2016).
Artist's Book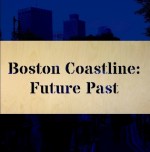 For more details about the project and excerpts from the speeches, view the artist's book Boston Coastline: Future Past here. Print copies are available for purchase at the MIT Museum bookstore and online at lulu.com.