A collaborative project with Heather Kapplow
Exhibited at Boston Does Boston 8, Proof Gallery, Boston, MA
2015 
In late-2014 Andi Sutton and fellow artist Heather Kapplow started discovering discarded devices at second hand stores, each with the same archaic symbol embedded in it in some way.  These objects, when "tuned" by the artists using materials lying around in their respective studios, were found to pull down sounds from the ether – last gasps – of creatures, attitudes, life stages and states of being just recently gone extinct.  The tunings were a type of channeling: drawing these sounds down from the ether to be exhibited and experienced by audience members who interacted with the pieces.
Developed specifically for the exhibition BOSTON DOES BOSTON 8 at Proof Gallery in South Boston, Last Gasp Radio grows out of an earlier effort at collaboration where the artists tried desperately to use time in an atypical way (and failed.) The symbol of this effort, a winged hourglass, was extracted from a 17th century graveyard in Boston, MA, and has been incorporated into this new work..
(mixed media/sound, dimensions variable)
Photo credits: Heather Kapplow, Andi Sutton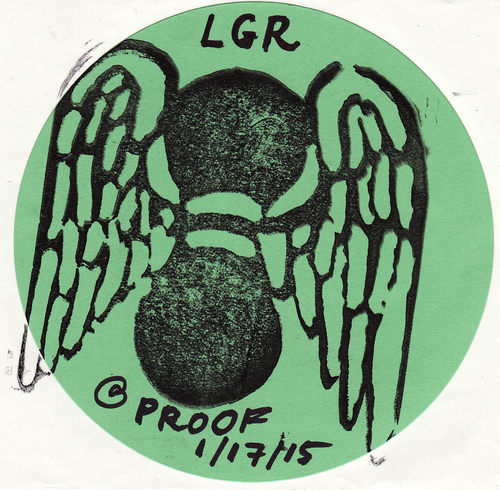 This collaborative project involved equal parts storytelling, mixed media and found object sculpture, sound recording and design, performance, and installation.   The objects in view in the gallery were embedded with the channeled sounds; audience members could press buttons on the sculptures and listen to each of the recorded last gasps.  The narrative of the artists' collaborative journey was recorded via letters posted to each other throughout their collaborative production process.  These letters were also displayed in the installation.